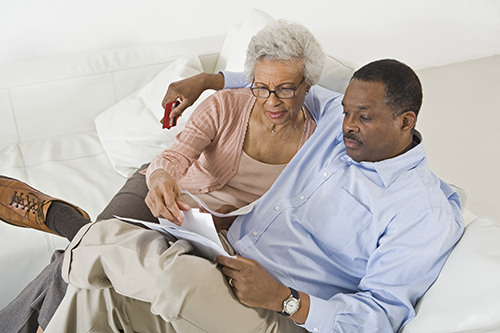 Seniors often need increasing help in their later years with healthcare, transportation, financial, and other needs, especially as their physical and mental health decline.  Today, it is estimated that approximately 30 million adult children in the US have stepped into the caretaker role for their parents for such matters, and this number is expected to greatly increase in the coming decades.
While none of us know for sure what our future may hold or what needs we may eventually have, those in their late 50's or beyond can take action now to minimize their potential care burden to loved ones, and also to better protect their interests.  The following summarizes these actions.
Life and Estate Planning
A common misconception is that estate planning only involves preparing for a final distribution of assets.  This is not the case.
Life and Estate Planning should consist of:
A Power of Attorney that will specify who is empowered to make lifestyle, financial, and other decisions if a person becomes disabled and cannot make these decisions on their own. Importantly, a Power of Attorney should also specifically provide the person to whom such powers are granted with the ability to engage in financial planning, including possible Medicare planning.
A Living Will or Advance Directive, so that a person's medical and care wishes will be respected during an end-of-life event.
A Will, which disposes all of a person's assets not held in trust or disposed of by other operation of law (such as assets owned by joint tenancy with right of survivorship).
A Trust (possibly), depending upon a person's needs.
Other estate planning documents.
Always seek an experienced estate planning lawyer who can expertly guide you through these matters (do not rely on Internet form wills, as these can be extremely problematic).  In particular, estate planning documents (such as powers of attorney) can be carefully crafted around your needs and assets, so that if they are needed, they can address specific accounts and property that you may own.
Current Lifestyle Changes – Decluttering, and Cleaning Out the Basement, Attic, and Garage
Many people live with years of accumulated clutter, often consisting of toys once used when the children were young, items such as vacuum cleaners that no longer work, and a wide variety of household items that have long since been replaced by newer versions.
While these items may have once been valuable, they now clutter up basements, garages, attics, and even storage units.  Your best move –
Get rid of all of these items now. Hold a yard sale.  Donate them to a charity (if they are still usable).  Call a junk company to remove them.
Walk around your home and consider what would need to be done in the event of an unexpected move. If you suddenly had to go into a nursing home, would your loved ones be able to easily clean out your place?
Junk is not just limited to basements, garages, and attics. Many people have multiple rooms full of items that they no longer need.  Start with your kitchen for example – do you have pots and pans, place settings, and other kitchen appliances that have not been used for years?  If so, get rid of these items.
Dispose of obsolete electronics, such as old computers, VHS players, and inexpensive film cameras. For computers, "wipe" the hard drives first, and consider environmental disposal matters (don't just throw them in the trash can).
Your goal? If you need to make a sudden move, such as to a nursing home as the result of a stroke, you don't want to burden your children or others with having to clean out decades of junk.  You'll have a cleaner home, and (if you're currently paying for a storage unit), you can save money right now.
Healthcare
Healthcare needs typically increase as a person gets older.  Help your loved ones who may need to care for you by:
Organizing your medical records, including having a list of the medical conditions for which you are experiencing or being treated.
Make a list of all prescriptions that you are currently taking, including the dosage and frequency, and where you get your prescriptions filled.
Keep your medicine in one place, don't make loved ones have to explore your kitchen, bathroom, or bedroom to find your prescriptions.
Insurance and Housing – Protecting Your Assets
The insurance needs of those entering later years also will change.  Instead of needing significant term insurance to protect school or college-age children in the event of an early death, insurance in the later years is often focused on health care needs.
Speak to a financial planner about –
Whether it makes sense to sell or not renew term life or whole life insurance.
Whether it makes sense to purchase nursing home insurance or an annuity.
How much insurance do you need on your home or other assets?
Are there any changes that should be made to retirement account assets?
What financial plans should be made regarding matters such as 401(k) withdrawals and similar matters?
Should you downsize your home?
How Will I Pay for Nursing Home Expenses?
Nursing home is expensive, often costing $8,000 or more per month.  For those in their 70's,
Speak to a Medicaid planning lawyer, and find out your options and whether advanced Medicaid planning may be helpful for your situation.
Financial Assets – How Clearly is Your Estate Organized?
If you suddenly need to move to a nursing home, or die unexpectedly, how difficult will it be to deal with your financial assets for the person charged with looking after your affairs or administering your estate?
Make it easy for them by:
Placing all financial information in one binder, and letting family know where this binder will be located.
Include information about bank accounts, investment accounts, checking accounts, credit card accounts, insurance policies, real estate deeds, and anything else that you might have.
Better yet, consolidate financial accounts, if possible.  You probably don't need multiple bank and investment accounts.
Passwords
In addition to organizing your financial accounts, it will also be necessary to keep an organized (but secure) list of passwords to such accounts.  There are all kinds of ways that a list may be secure, ranging from password-protecting an Excel spreadsheet to physically placing a handwritten list somewhere known only to trusted family members.
Keep the following in mind –
You should have different passwords for every account, so if one account gets hacked, a hacker will not have access to other accounts.
Don't put this list someplace where additional information is needed to access the list (like putting it on your computer, but not telling anyone what password is needed for your computer).
Remember to update the list if you change a password.
Social Media Accounts
Facebook and many other social media websites now have procedures for managing a loved one's account after death.
Make sure your estate planning documents clearly identify who is entitled to manage your social media account(s) in the event of death or disability.
Don't Postpone These Matters
None of us know when a significant medical event might occur.  Taking the foregoing actions, however, not only can significantly benefit you and your loved ones, but such actions can also provide the peace of mind that comes from the organization of one's affairs, a less-cluttered home, and saving money on unnecessary expenses.